Celebrating 10 years of Sigmoid: Bridging the gap between data and decision-making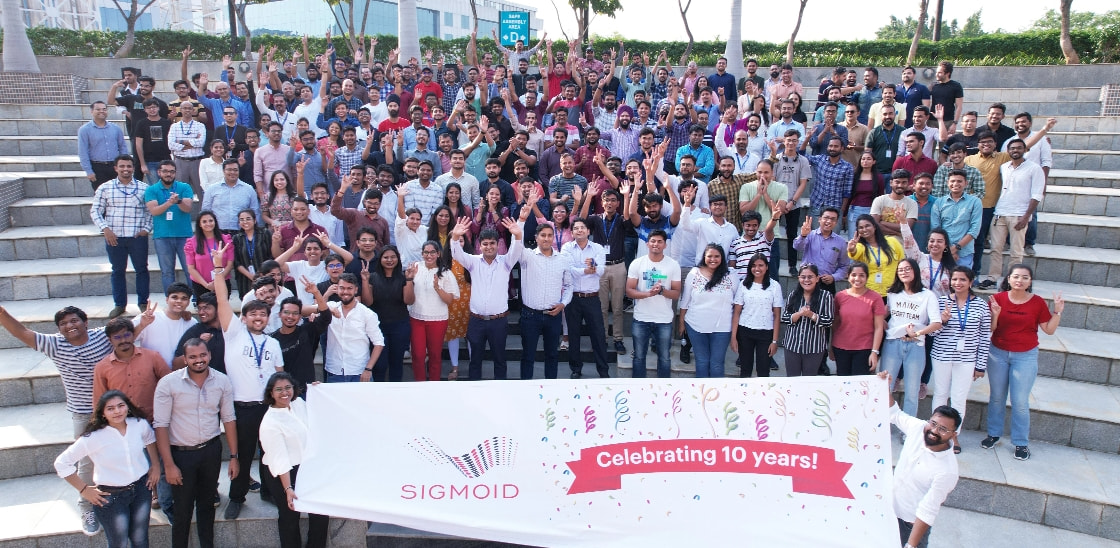 Sigmoid's inception in 2013 was propelled by two ideas primarily: one, every decision can be made better with data and two, every company may not have the right data setup. From the very start, the goal was to enable enterprises to become fully data driven. As we complete 10 years in the business, it is pertinent to look back, cherish the successes and move forward with confidence. This is a moment to highlight some of the most important milestones in the last ten years, which set the stage for an even brighter, more impactful future for Sigmoid.
Humble beginnings in the data space
When we started out, we discovered that many companies were missing out on the immense value buried in their data. We knew that tapping into this data value was going to be key to success in the digital world, but building big data systems required different expertise and technology than traditional software engineering.
That's where Sigmoid comes into picture. We had a simple goal in mind: to help enterprises make smarter business decisions quickly with data and AI. The focus was on empowering businesses and maximizing value for them, rather than force-fit a solution. Our solution approach is two-pronged: first, we work with our customers to define measurable and objective success definitions for complex business goals. Second, we take ownership to achieve those goals effectively in a time-efficient fashion.
Sigmoid's growth journey has been propelled by outcome-driven customer partnerships, delivery excellence and world-class talent.
Celebrating 10 years of striving for excellence
One thing that kept us rightly placed for success is our core values: keeping 'customer focus', being a 'team player', taking 'ownership and accountability' while upgrading skills through 'continuous learning'. These values have helped us engineer excellence which is why we lay a strong emphasis on these values even 10 years later.
Series A funding from Sequoia in 2013 powered our innovation and process frameworks. Post the investment, we developed some unique solutions, created personalized customer experiences and invested heavily in talent growth. Our solution Sigview, a plug-and-play real-time data analytics tool for the AdTech industry, was commercially launched in 2015. We acquired the 1st F100 client in 2017 and subsequently expanded our presence across newer geographies like LATAM in 2018. By 2020, we were able to enter into the European market and deepened our roots. Gradually our focus shifted to providing data engineering, analytics and AI solutions, which enabled us to deliver business impact worth millions of dollars to 25+ Fortune 100 companies. The workforce continued to get strengthened with our extensive training program, with our in-house L&D university.
As much as 2020 was an unprecedented year for the world, it was a crucial year for us to enable enterprises to use data to solve supply chain and marketing problems that made Sigmoid a preferred data analytics partner which drove our growth. Many CPG companies were forced to shift a significant portion of their business online, so we stepped in to automate the data ingestion process from online retail. This allowed our clients to track customer journeys, buying patterns, online marketing campaigns, and more in a seamless manner.
We grew into a strong team of 500+ data engineers and data scientists. Great Place to Work certified us as 'India's Best Leaders in the times of crisis' in 2021. We went on to win multiple awards and accolades, including the Data Breakthrough Award for "Overall Open Source Data Solution Provider of the Year" and Inc. 5000 list of America's Fastest Growing Companies. We were also recognized in Forrester's 'Now tech: AI Consultancies Q1 2021' report, Everest Group's PEAK Matrix report as a 'Major contender in Analytics and AI Service Specialists 2022' and were amongst the 'Best Firms for Data Scientists to Work For in 2022' by Analytics India Magazine. Strategic partnerships with Amazon, Google, Snowflake, Microsoft, Databricks, Cloudera, Matillion, Dataiku, and others helped us create a dynamic tech ecosystem for client solutioning.
Learning and growing
Insights from each project and industry exposure helped shape our business model. At the heart of every successful engagement is the ability to align business objectives with data and accelerate decision-making for clients. To achieve this, we quickly adapted ourselves to the learning curve and discovered the immense potential of AI in augmenting decision-making processes for businesses.
Our core foundation in data has put us in a unique position to help businesses navigate the complex world of data management. By aligning ourselves with clients and understanding their data journey, we have empowered them with the strategies to yield maximum benefits.
Our uniqueness lies in our Data Engineering capabilities
At Sigmoid, we provide end-to-end data solutions to our customers. From extracting data to creating data lakes and developing machine learning models, we help customers at every stage of their data journey. The priority remains generating ROI and delivering incremental results using our unique Agile Framework for Data, which minimizes risks in data projects by identifying ROI, assessing data quality, and ensuring project success through flexibility and adaptability. A collaborative approach and carefully designed problem-solving framework ensure success for both us and our customers. We differentiate ourselves with a strong engineering foundation and a focus on risk elimination. Our experts with different skill sets come together to execute complex AI initiatives reliably.
Of change and evolution
Over the past decade, the push towards adoption of cloud technology and increased agility has caused a seismic shift in the industry. Traditional companies are now transitioning into software companies due to the need for digital transformation and the influx of data. This presents a massive opportunity for companies across industries to iterate and evolve faster than ever before, and for us to help them achieve that goal. As a successful enabler, we look forward to helping companies make this transition smoothly and scale faster.
From good to great
Ten is a number of growth and new beginnings—which is why we are focussed than ever to strive for being a 10, always! As #Sigmoidturns10, we look forward to the opportunities ahead. We intend to become better than yesterday. We are thankful to our customers and partners for their trust and support over the years.
Onwards and upwards!