Data Science for Business
Delivering custom AI/ML solutions for faster and smarter insights
Home / What we do / Data Science
Become a data driven enterprise and make better business decisions to gain competitive advantage
Businesses struggle to leverage two-third of the data available to them. Sigmoid's data science services help enterprises create robust data strategies and deploy advanced ML and AI techniques to unlock hidden insights and explore new opportunities with data. We equip enterprises with measurable and objective success definitions for complex business goals and leverage data-driven decision frameworks and accelerators to deliver high impact on analytics initiatives.
Faster and actionable insights for business
Data Science Services and Solutions
Embed advanced analytics into business strategy and reduce time to results across business functions. Sigmoid's data science consulting delivers advanced analytics solutions offering tangible results to business challenges by identifying the right problems and implementing the right tools and technologies in machine learning, artificial intelligence and deep learning. We have a team of highly competent data scientists and data professionals working to solve your problems.

Supply Chain Analytics
Get a scalable and holistic solution for supply chain teams to optimize inventory and mitigate business disruptions while improving forecast accuracy.
Demand forecasting
Inventory optimization
Stock analytics
Logistics route optimization
Supply chain management

Marketing Analytics
Develop highly targeted marketing strategies that are scalable across brands and geographies.
Hyper-personalization
Social media analytics
Ecommerce campaign optimization
Predictive Analytics

Customer Analytics
Understand customer needs and improve the customer experience (CX) journey with our end-to-end customer analytics solutions.
Customer lifetime value
360 Customer journey
Sentiment analysis
Customer churn prevention
Customer experience personalization
Expertise across the data science techniques and technology stack
Techniques:
Classification and clustering
Graph modeling
Geo-spatial analytics
Knowledge representation
Time series modeling
NLP
Image processing
Sensor analytics
Sequence mining
Natural Language Processing
Tech Stack:

BI and Data Visualization
Turn data into visual insights with automated and interactive enterprise grade BI platforms. Our real-time dashboards with high refresh rates are powered by robust data pipelines which ensure high quality insights and can quickly scale with changing data requirements. Our 6-step framework enables effective insights exploration across descriptive, preventive, predictive, and prescriptive analysis.

Accelerator
Campaign performance dashboards
Check out our multi-touch attribution platform with interactive dashboards for CPG marketers.
Watch video
Artificial Intelligence
Advanced and cutting edge techniques for creating insights from data to explore new opportunities and stay ahead of competition.

NLP
Intelligent text extraction systems go beyond hashtags and mentions to detect early warning signs and alerts. Models like GPT 3 have paved the way for advances in sentiment extraction, language translation, text classification, and question-answer systems to revolutionize how businesses engage with customers.

Computer Vision
Deep insights from raw and 3D images uncover digitization opportunities such as image and video analytics, facial recognition, crowd dynamics, and document analysis with custom, pre-trained SOTA models. These have transformed the way companies create experiences across real, VR, and AR environments.

Quantum Computing
With the ability to convert scrupulous volumes of data into meaningful insights faster and more accurately, quantum computers solve the most complicated problems. Some of our innovative work include Quantum SVM for the classification of breast cancer, Quantum GAN for option pricing, and others.
Whitepaper
Maximizing on-shelf availability (OSA) for CPGs with machine learning
Find out how CPGs can leverage data and analytics to identify inventory compliance gaps in the retailer network, and improve sell-out.
Download whitepaper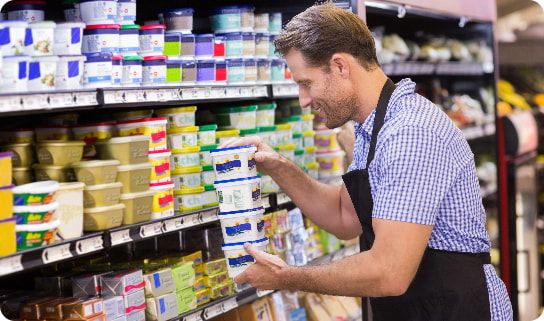 Explore our other data and analytics offerings