Data Science Consulting & Solutions for improved Business Performance
Despite huge investments in advanced analytics and AI, many business leaders struggle to effectively scale and unlock its potential. Some of the challenges they face are lack of understanding of advanced analytics processes such as machine learning, challenges in identifying the right problems and the inability to use the latest tools and technologies.
Sigmoid, the leading data science consulting firms delivers advanced analytics solutions offering tangible results to business challenges by identifying the right problems and implementing the right tools and technologies in machine learning, artificial intelligence and deep learning. With deep experience in AI implementation, Sigmoid's data science consultants build production-level predictive ML services, our customers are empowered with timely and accurate insights across the customer, marketing, and supply-chain side of businesses.
Get Solutions for all your Data Science Needs

Artificial Intelligence
Building an effective AI strategy remains a major challenge for companies as it can be expensive and time-consuming. Sigmoid helps accelerate the adoption and proliferation of cutting-edge AI solutions with our team of data specialists. We help accelerate time to business value for AI projects by 30% by strengthening AI model life cycle management and overcoming the challenges of model drift.

Machine Learning
Technology integration, compatibility, lack of scalability and siloed configurations are some of the greatest ML challenges. Sigmoid provides expertise in custom ML solutions to seamlessly integrate technologies to maximize ROI. We have worked on many interesting ML use cases such as market basket analysis, building recommendation engines, multi-touch attribution models for improved marketing campaigns, and more.

Deep Learning
Companies are exploring deep learning to build intelligent solutions such as voice and image recognition algorithms, recommendation engines, predictive analytics, self-learning algorithms, and more. Sigmoid has built several deep learning use cases such as neural network architecture to create prediction models, Natural Language Processing to build algorithms for text recognition on images, and more.
How can Sigmoid help you deliver on your Advanced Analytics Initiatives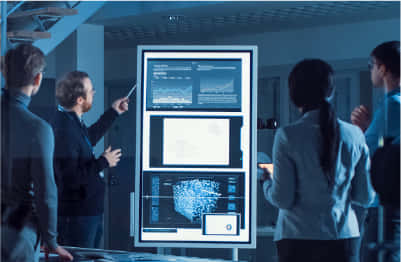 Data science consulting workshops for a multifaceted exploration of the business challenges
Problem prioritization through data-led impact analysis
Project KPIs defined and monitored in close alignment to specific business goals
Leverage full-spectrum of innovative, intelligent and self-learning AI and ML solutions
Robust model development, deployment, maintenance & support
Run AI initiatives with 30% faster time to market of ML models
Advanced open-source technologies and tools for real-time tracking of data
Build customized dashboards to track performance
Establish an analytics-led culture to deliver top-line growth and operational efficiency
Full-spectrum Analytics Capabilities Across Business Functions
---
Develop highly targeted marketing strategies that are scalable across brands and geographies.
Hyper-Personalization
Multi-touch attribution
Recommendation engines
Social media analytics
---
Understand customer needs and improve the customer experience (CX) journey with our end-to-end customer analytics solutions.
Customer Lifetime Value
360 Customer Journey
Sentiment Analysis
Customer Churn Prevention
---
Get a scalable and holistic solution for supply chain teams to optimize inventory and mitigate business disruptions while improving forecast accuracy.
Demand Forecasting
Inventory Optimization
Stock Analytics
Logistics Route Optimization
Our Data Science Technology Stack

Frequently Asked Questions

Sigmoid has been a fantastic partner to us. They bring top talent with the best technical expertise to the table and consistently deliver great results. They are a trusted partner and a pleasure to work with.
Sabina Rizvi
COO, Digital and Technology of leading,
QSR
Want to know more about our Data Science service offerings?
Our advanced analytics and machine learning solution across marketing, supply chain, and customer journey help Fortune 500 companies leverage data-driven insights and make real-time decisions.
Let's discuss how you can leverage our Data Science services to identify business problems and enable business transformation. Rest assured, it's an absolute non-binding initial consultation with our Machine Learning and Data Science Experts.