Sigmoid Ranks No. 16 on Inc. Magazine's List of the Fastest-Growing Private Companies in the New York City Metro Region
Achieves a stellar two-year revenue growth of 778%, riding on customer focus and continuous innovations in the end-to-end data analytics value chain.
NEW YORK, March 20, 2021 – Sigmoid, a strategic data and analytics partner to the world's largest data producers, today announced that it ranked 16th on Inc. 5000 Regionals: New York City Metro list, the most prestigious ranking of the fastest-growing New York City area-based private companies. Born of the annual Inc. 5000 franchise, this regional list represents a unique look at the most successful companies within the NYC area economy's most dynamic segment—its independent small businesses.
"It is an honor to be named to Inc. Magazine's prestigious list of the most successful companies in the New York metro area. I would like to credit this achievement to our success in artificial intelligence and machine learning solutions which are driven by our robust data engineering strategies. Earning a top place in this list has also been possible because of the trust shown by our customers and resilient teams who helped us achieve growth even during the challenging times of the pandemic" said Lokesh Anand, Co-Founder and CEO of Sigmoid.
Sigmoid's customers include Fortune 500 companies across the CPG, retail, BFSI, and Technology sectors, who have leveraged Sigmoid's data engineering and data science capabilities across specialized focus areas such as MLOps, cloud migration, personalized promotions, multi-touch attribution, supply chain analytics and more. "In these challenging times we also want to do our best by equipping organizations with data driven insights, that in turn serve humanity at large as we transition to the new normal", added Lokesh.
The companies on this year's Inc. Magazine's list shows stunning rates of growth across all industries in the New York City area. Between 2017 and 2019, these 250 private companies had an average growth rate of 214% and, in 2019 alone, they employed more than 48,000 people and added nearly $9 billion to the NYC Metro area economy. In relation to this, Sigmoid's growth in this period was 3.6X higher. Companies based in Stamford, Connecticut, New York City, and central New Jersey brought in the highest revenue overall.
Complete results of the Inc. 5000 Regionals: NYC Metro area, including company profiles and an interactive database that can be sorted by industry, metro area, and other criteria, can be found at https://www.inc.com/inc5000/regionals/new-york.
"This list proves the power of companies in the New York City area no matter the industry," says Inc. editor-in-chief Scott Omelianuk. "The impressive revenues and growth rates prove the insight and diligence of CEOs and that these businesses are here to stay."
About Sigmoid
Sigmoid is a strategic data partner to Fortune 1000 companies in delivering innovative solutions using machine learning, big data, open-source, and cloud technologies. By leveraging their expertise in Data Science and Data Engineering, Sigmoid has worked with the world's largest data producers across industries like retail, CPG, BFSI, advertising, and technology. By helping companies in their digital transformation journeys, Sigmoid translates huge volumes of data into faster actionable insights and business value. Visit http://www.sigmoid.com for more information.
About Inc. Media
The world's most trusted business-media brand, Inc. offers entrepreneurs the knowledge, tools, connections, and community to build great companies. Its award-winning multiplatform content reaches more than 50 million people each month across a variety of channels including websites, newsletters, social media, podcasts, and print. Its prestigious Inc. 5000 list, produced every year since 1982, analyzes company data to recognize the fastest-growing privately held businesses in the United States. The global recognition that comes with inclusion in the 5000 gives the founders of the best businesses an opportunity to engage with an exclusive community of their peers and the credibility that helps them drive sales and recruit talent. The associated Inc. 5000 Conference is part of a highly acclaimed portfolio of bespoke events produced by Inc.
I would like to credit this achievement to our success in artificial intelligence and machine learning solutions which are driven by our robust data engineering strategies.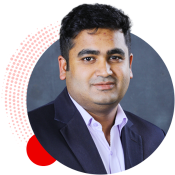 Lokesh Anand
Co-Founder and CEO, Sigmoid