How to enhance cloud data security for financial institutions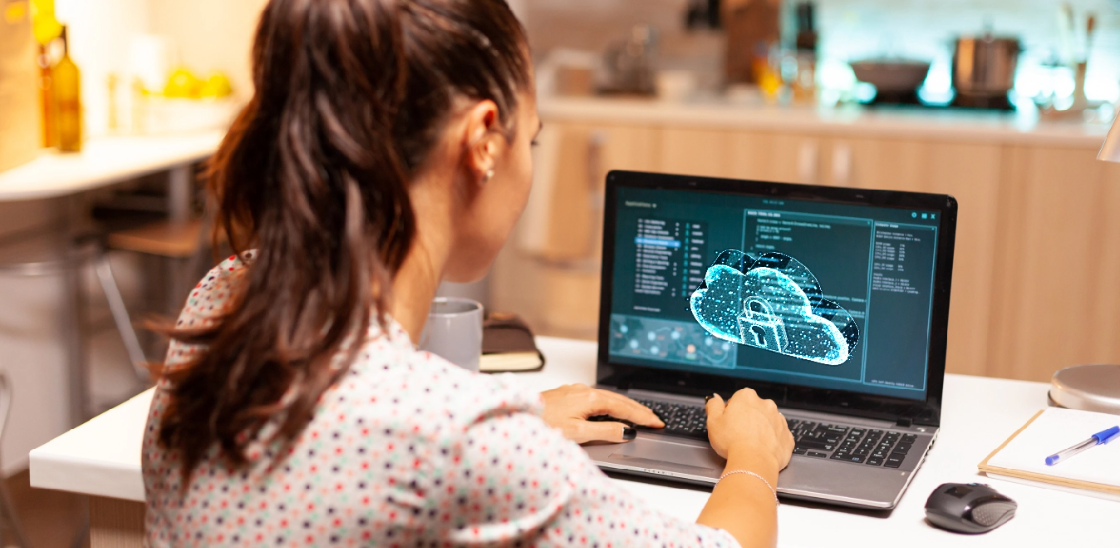 Over the past few years, banking and capital market firms have increasingly realized that the cloud is more than just a solution enabler. Today cloud underpins the business and operating model of the majority of financial institutions helping them generate revenue, harness consumer insights at scale, deploy market-relevant products quickly and monetize critical enterprise data assets.
While the benefits of cloud are pretty apparent, data security in the cloud remains a major concern for financial institutions. This is because maintaining the integrity and privacy of confidential customer information has become a key objective for any organization that collates and stores personally identifiable information. And financial services organizations are no different. Analytics for financial services intrinsically deals with large amounts of sensitive business and customer data in daily business transactions. Given the perceived value of this data, financial institutions are often considered as primary targets for hackers.
According to recent research cyberattacks on financial institutions in 2020 cost an average of USD 3.86 million for every affected organization and took an average of 207 days for every company to identify the root cause. Another research report from Trend Micro revealed that in the first half of 2021, there was a whopping 1318% increase in the number of ransomware attacks in the banking industry which was significantly disproportionate to other industries.

Source: Capita, Trendmicro
Going forward, the frequency and magnitude of data breach attempts on financial institutions will only quadruple. And therefore, it is critical for organizations operating in the space to have a better understanding of cloud security, since that's the preferred destination for most to store sensitive data. The need of the hour is to invest in robust cloud security solutions that can help prevent network security risks and safeguard against external and internal cloud threats.
A three-tier approach to data security
There is a growing need to safely handle and share data both within a company and across organizations, data must be secured at rest and while in motion. Design and implementation should provide enterprise-grade security in the areas of authentication and authorization, encryption, network security (TLS, firewall, VPN, whitelist/ blacklist control), data privacy and anonymization, logging, monitoring, and auditing which conforms to compliance and regulatory standards. At Sigmoid, our experience with several cloud data warehousing solutions have enabled us to create a framework for data security techniques to safeguard the data sensitivity and follow regulatory compliance.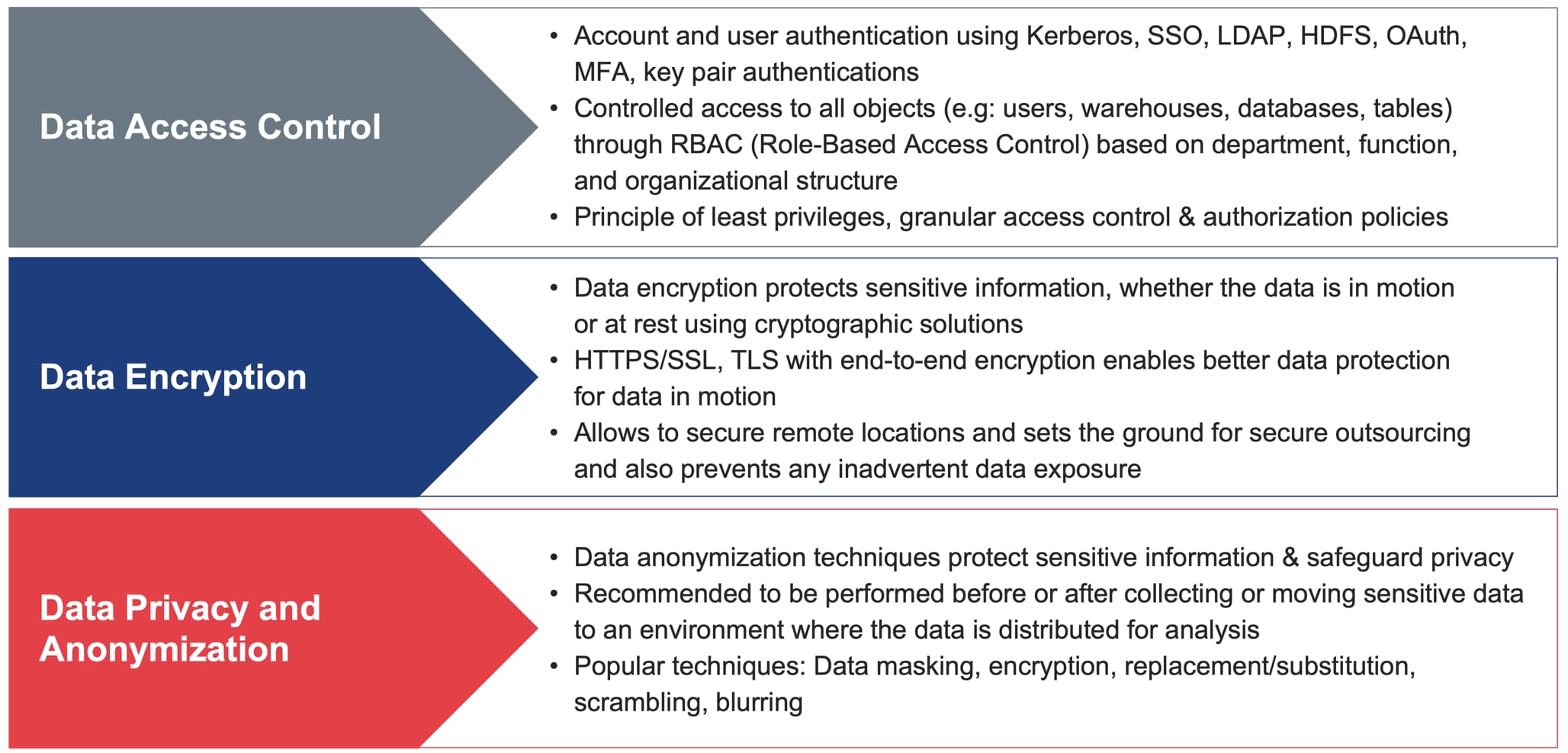 Sigmoid's approach to data security
Best data security practices on the cloud
The following are some of the ways through which financial institutions can enhance data security on the cloud:

Enhancing data security on the cloud
Deploy robust authentication tools :

Financial institutions need to adopt multi-factor authentication systems to add another layer of security that requires data users to confirm that they are exactly who they claim to be. Authentication tools help internal IT and security teams accurately verify users trying to access a secure cloud network infrastructure and applications. Encouraging employees and users to embrace more than one authentication mechanism, besides conventional username and password can be a great way to build an additional level of security which ultimately may be harder to breach.

Rely on multi-tier architectures to eradicate chances of cloud misconfiguration :

According to Gartner, by 2025 over 99% of cloud data breaches will be tracked back to preventable cloud misconfigurations or end-user mistakes. This figure underlines the criticality of closing this potential attack window which continues to leave many financial institutions vulnerable. To combat this threat, organizations can consider building secure multi-tier architectures on the cloud. That way cloud administrators can maintain a certain level of segregation between tiers to ensure optimal security within a particular cloud management stack. Additionally, financial institutions can also leverage solutions that automate security policy compliance in the public cloud. Such solutions can provide complete visibility into distributed cloud environments by continuously scanning a cloud infrastructure to detect misconfigurations while remediating violations for effective risk management in banking.

Secure data during cloud transit :

Financial institutions must ensure that their cloud network encryption devices are capable to handle intensive encryption algorithms, operate seamlessly across a diverse range of connectivity and cloud architectures and stay future proof against emerging data security threats. With high-speed encryption (HSE)-based network encryptors, organizations can readily secure cloud data in transit between data centres, cloud platforms, back and disaster recovery sites and more.

Mitigate bad traffic from cloud infrastructure :

An integral aspect of cloud data security is bad traffic management. A large chunk of the traffic received by banking websites and applications is malicious traffic or spam. By preventing this traffic from entering the cloud infrastructure, financial institutions can not only negate the chances of data theft but also significantly improve the overall infrastructure performance while saving on computing power. To simplify bad traffic management, financial institutions can leverage cloud-based bot mitigation solutions that harness Machine learning to differentiate between actual traffic and bot traffic.

Manage user access by deploying IAM security controls :

Identity and Access Management Controls (IAM) such as 'least privilege access' or 'need to know' can go a long way in helping financial institutions to provide strategic data access to users and employees on the basis of their needs and not more than what is required. The majority of cloud service providers today come with this feature. For instance, financial institutions can leverage AWS IAM to manage user access which can help create a firewall against insider threats.

Monitor user network activities and encrypt data :

Financial institutions need to perform real-time analysis and monitoring of user actions across networks. This can help them identify deviations from regular activity patterns such as unknown users signing in from illegal devices or IP locations. Regularly logging user data can help an organization demonstrate to auditors that all applications and networks are safe and that an activity report can be produced anytime when there is a breach. It is equally important to encrypt data being stored in the cloud and during transit the data needs to be accurately decrypted.

Historically, financial institutions have always seen data privacy measures as a compliance cost. Nevertheless, the longstanding impact of a data breach far outweighs the direct costs that are often considered. Data or identity theft besides having financial repercussions often causes reputational damage which is difficult to recover from. It is therefore extremely critical for financial institutions to have a robust cloud data protection program in place that takes into account the latest security policies, access controls and preventive measures that can provide complete safeguard against emerging threats.