Cloud data warehouse is the future of data storage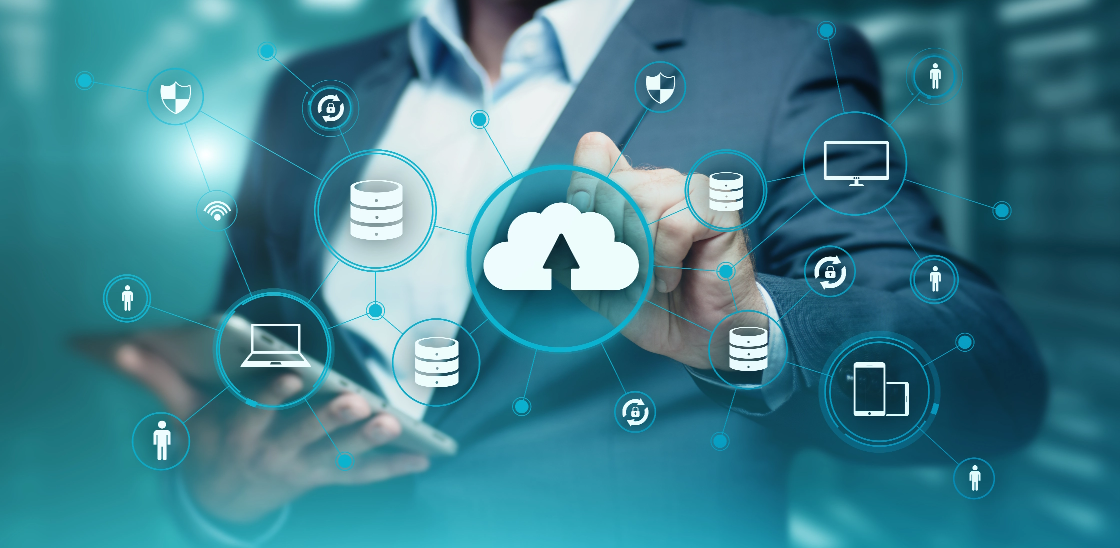 Big data storage with cloud – doubling down on the opportunities
The last decade has seen the rapid growth of cloud adoption rates across industries. Today, cloud data storage accounts for 45% of all enterprise data and by Q2 2021, that number could grow to 53%.
The writing's on the wall – given the direction in which the industry is moving, there's no better time to embrace the cloud than now. From big data warehousing that utilized traditional data warehouse architectures, companies are quickly transitioning to cloud data warehouses.

The advantages of a cloud data warehouse
The ability to integrate data from multiple channels allows organizations to effectively leverage Business Intelligence (BI) tools and derive meaningful insights. It's important to remember that BI tools are highly limited in their data preparation capabilities. Cloud data warehouses can be a game changer here as they help BI tools leverage the wealth of reliable and correctly structured data to generate actionable business insights.
The present-day cloud data warehouse (CDW) forms the core of the data analytics architecture. Having a big data warehouse on the cloud enables businesses to store very large amounts of data sustainably and gain several advantages by leveraging advanced data analytics. These include:
Cost reduction: Providers take care of hardware, upgrades, maintenance, and outage management, which makes cloud less expensive than on-premise infrastructure.
Data security: A single point of access simplifies the cloud data security conundrum, making it arguably safer than on-premise data storage. It also allows the integration of additional safety measures such as VPNs and cloud encryption.
Reliability: Leading cloud warehouse providers like Amazon, Microsoft, and Google report 99.99% uptime. Cloud promises to make anywhere and anytime access to services, tools and data a reality. This level of service and reliability enhances customer experiences and provides a robust platform for business continuity.
Scalability and enhanced accessibility: One of the defining features of cloud infrastructure is its vertical and horizontal scalability. It is ready to meet the data requirements as per organizational demands removing the data volume restrictions effectively.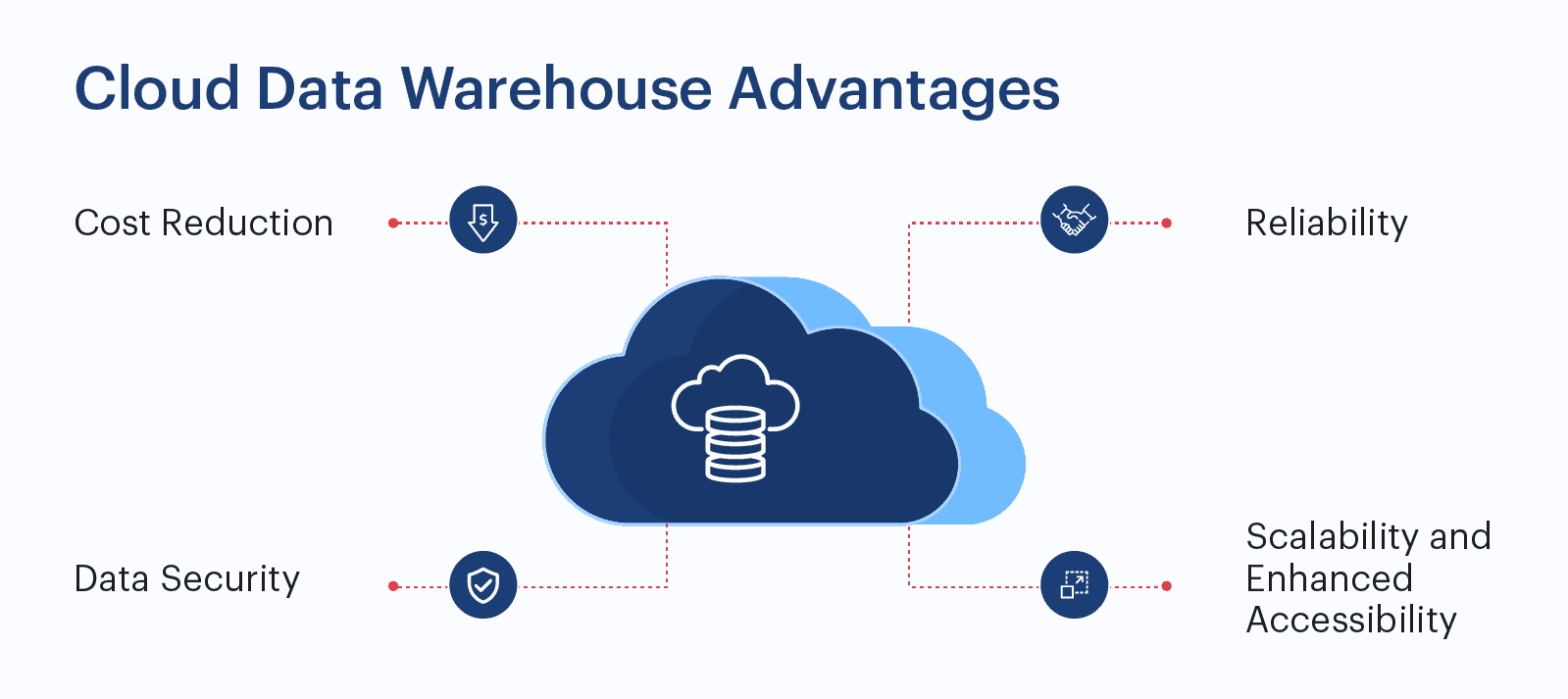 Moreover, efficient data integration and data governance facilitates seamless data management, which in turn enhances data accessibility. Businesses that work with massive data for quick decision making, have achieved benefits including faster access to data and reduced infrastructure cost. Considering these features, it is safe to say that cloud data warehouses will define how organizations access and leverage Business Intelligence (BI) going forward.
But even as we venture into a cloud-essential future, enterprises have their work cut out for them. They must fortify their cloud strategies and conduct a thorough cloud readiness assessment. One of the first steps to achieve that is facilitating the seamless migration of data to a cloud data warehouse.
Data migration: how to go about it?
The benefits of cloud data warehouses make them an indispensable driver of digital transformation. But how do enterprises go about migrating business data to a cloud infrastructure from a legacy environment? There is no one right way to develop an effective migration strategy, but there are a few essential steps that enterprises need to take:
Determining the type of data storage: It is important to understand that the enterprise data transformation journey is a gradual process. There are two parts to this preliminary step:

Creating data lake or data warehouse: One of the most fundamental aspects of choosing a cloud storage destination is to understand the differences between a data lake and a data warehouse. Even though the terms are often used interchangeably, there are vast differences in terms of structure and purpose. A data lake is a vast pool of unstructured data, the purpose of which is not yet determined. A data warehouse on the other hand, is a repository for structured and filtered data stored with a definite purpose.

The data stored within data lakes are highly accessible, whereas it is more complicated and cost intensive to change or update the data within data warehouses. Moreover, since the data within data lakes is unprocessed, it requires specialized tools and data scientists to make good use of it. Organizations need to account for these differences and choose what suits their purpose. In many cases, organizations need to choose both.
Choosing the right cloud provider: When it comes to choosing the right cloud warehouse provider, the options are plenty. And each provider has their pros and cons. Businesses need to identify the cloud warehouse that uniquely matches their specific requirements. This is an important aspect of selecting and operationalizing cloud migration services. Organizations can try migrating a small data set to multiple cloud warehouses to determine which options work best for them, both in terms of performance and cost. Doing so can give them a better perspective in terms of congruity.
Copying all existing data: This step depends on the sheer volume of the data they have. But it is also important to consider the data schema and format before the final transfer. The schema must be transferred before loading and used while setting up the replication process.
Enabling continuous replication: The next step is setting up data synchronization. This can be done either manually or by using data pipeline services to manage schema and data replication. This is a critical step since the rest of the components can only be transferred once the synchronization is secure.
Building the analytics infrastructure and data application migration: Business Intelligence and analytics infrastructure setup should follow once the migration pipeline is created. This is a relatively low risk task. However, legacy applications may pose a unique challenge. In some cases, ensuring a smooth transition and an optimum performance involves replacing ODBC drivers, rewriting queries, or even changing the data model.
Migrating transformations: The final step is to recreate the transformations to produce final data models in the new cloud ecosystem. It is recommended that enterprises follow the ELT (extract, load, transform) model of transfer as an alternative to ETL on cloud (extract, transform, load) to accelerate data processing in a cloud environment.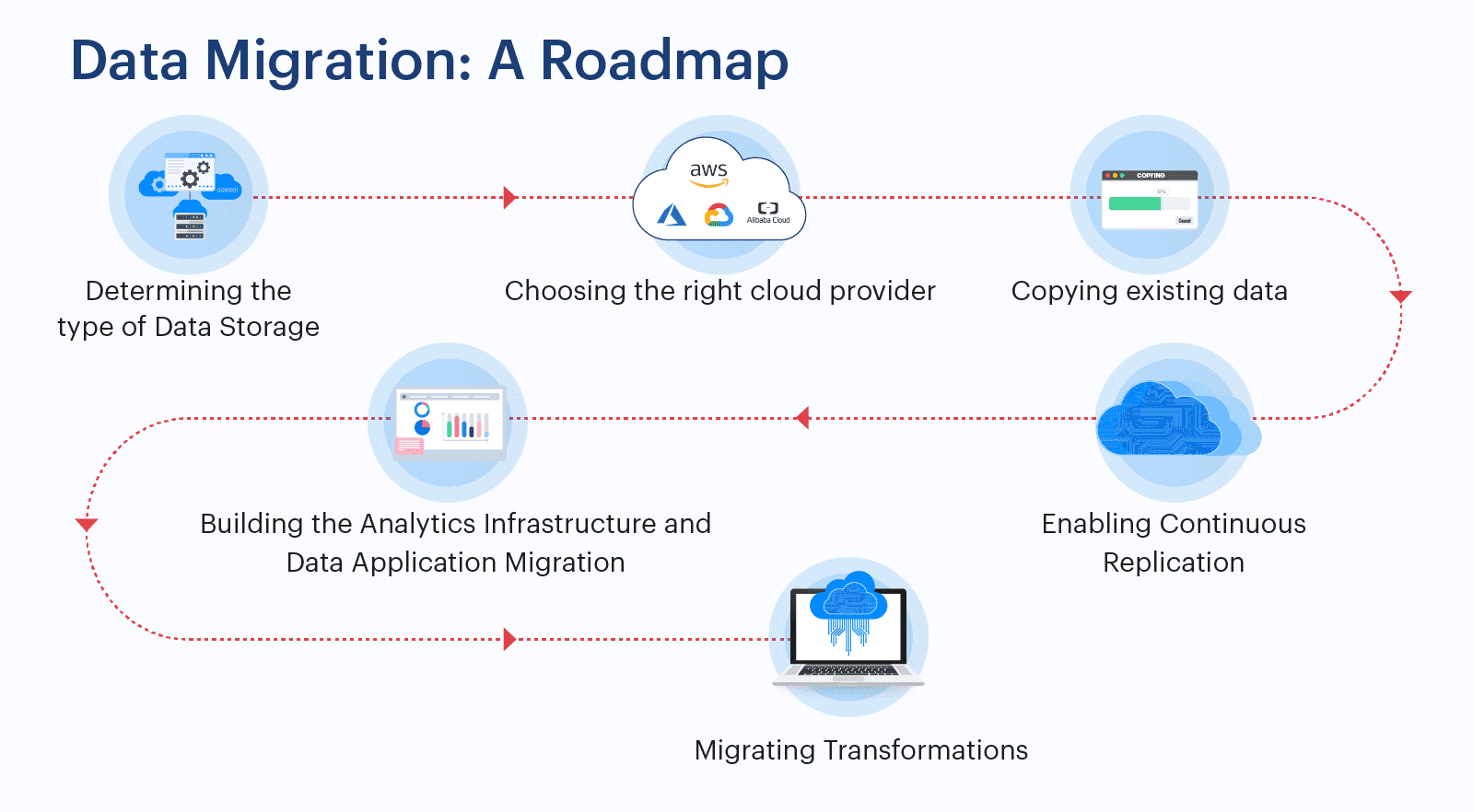 Accelerating business growth with cloud warehouses
Cloud data warehouse adoptions are growing at a CAGR of nearly 15%. To keep up, business leaders must recalibrate their cloud strategy and leverage the benefits of an ever-expanding cloud ecosystem through cloud warehouses. This will allow them to harness the power of business intelligence and embrace emerging technology and trends like edge computing and AI/ML. This, in turn, will boost their capability and preparedness to enter new markets, and promises a significant business advantages.
The recent economic turmoil of the pandemic emphasizes the need for alternatives to legacy systems. It has become imperative for businesses to embrace cloud consulting and move to cloud warehouses. This will help them in steadying the ship in the short-term while targeting sustained growth and expansion in the long-term.
About the author
Nitin is Engineering Manager at Sigmoid and has a decade of experience working with Big Data technologies. He is passionate about solving business problems across Banking, CPG, Retail, and QSR domains through his expertise in open source and cloud technologies.