DataOps Services
Manage enterprise data operations with robust DataOps expertise
Dataops Solutions for Enterprise Data Management & Governance
The rapid adoption of technologies like 5G, AI and ML is expanding the global 'datasphere' at breakneck speed. Building on the essential capabilities to convert this burgeoning data volume into business value can be a daunting task without a robust DataOps process.
Sigmoid's DataOps services helps analytics leaders across organizations stay business-ready by seamlessly orchestrating voluminous data efficiently throughout the data lifecycle. The proven DataOps methodology ensures uninterrupted development, seamless integration, testing, deployment, and monitoring of enterprise data operations. With years of expertise in data automation, data governance and data infrastructure optimization, Sigmoid helps companies enhance data pipeline availability, reduce downtime, lower operations costs, and mitigate data risks.
Speed up Data Lifecycle Management
Data analysts often end up spending more time processing data than analyzing the same. As industries realize and explore data management, there is significant growth and improvement in database engines and how they work. However, these databases often lack infrastructural agility due to manual procedures. This is where Sigmoid DataOps services step in by helping companies automate and streamline the data processing pipeline so that analysts can truly focus on value generation and not data preparation.
Success Story
DataOps for 24/7 Monitoring And Highly Available Systems
Watch how Sigmoid developed highly scalable data systems to ensure 99.99% uptime, zero outages and seamless deployment of new applications for a leading cloud service provider.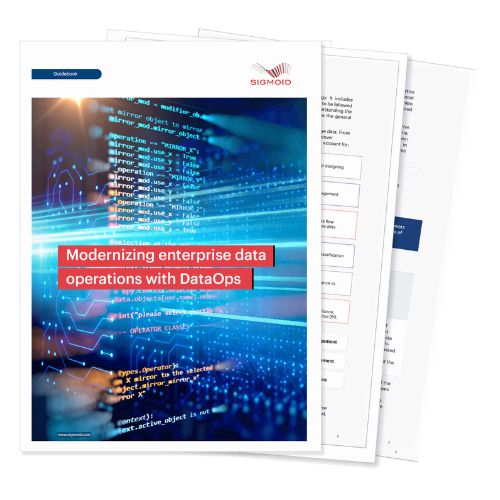 Modernizing enterprise data operations with DataOps
Organizations face a host of challenges in streamlining data analytics and creating data pipelines. These may range from challenges due to proprietary choices, cloud, structural, or edge computing-related. This guidebook explains how DataOps is emerging as one of the key dominators in overcoming these constraints by helping enterprises construct data and analytics pipelines effortlessly.
Learn more about the data engineering services