How to improve marketing ROI using Multi-touch Attribution for CPG brands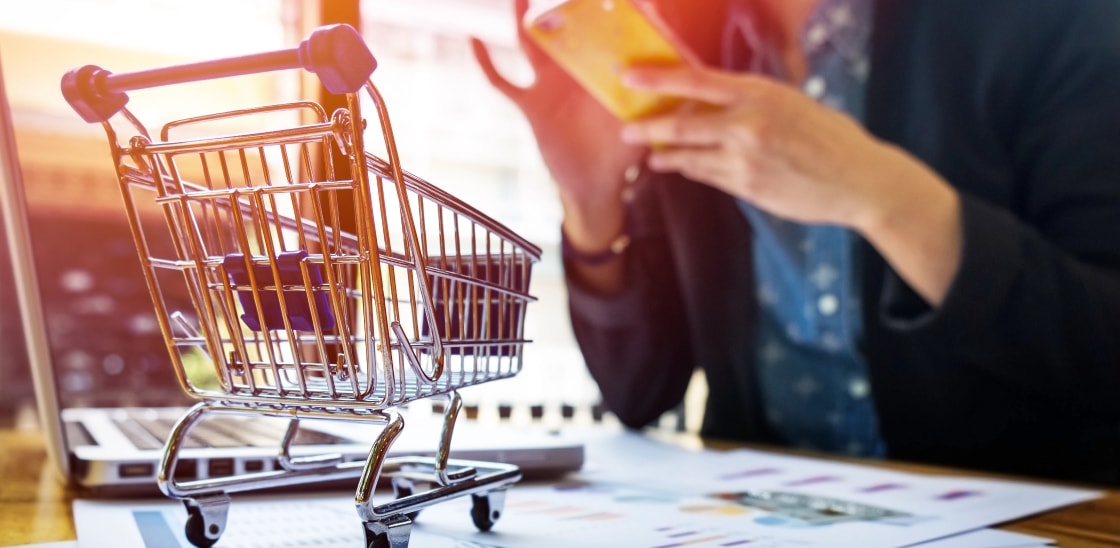 Reports suggest that the consumer packaged goods (CPG) industry will increase 5.2% to $19.40 billion in 2020, making it the third-largest spender behind retail and financial services. A boost in digital sales of essential goods and personal care products, which were purchased more frequently online during the pandemic, has driven the growth in spend of CPG business.
What was classically reach driven advertising, has now transformed to very nuanced communication, deep audience segmentation and contextual messaging along the customer journey.
The shopper of the present day is essentially mobile first and a large part of her shopping journey begins and ends on mobile devices. CPG businesses spend heavily on mobile for advertising, and the most popular format is display advertising on social networks and video platforms.
40% of the total CPG consumers tried online grocery for the 1st time because of COVID and 35% plan to continue to buy online
According to a research by BCG
Consumer buying behaviors have changed in unprecedented ways during the uncertainty the pandemic brought in 2020. However, leading CPG marketers have evolved, leaning on consumer data to drive omni-channel campaigns and attribution.
With digital ad spends surpassing traditional media spends, marketers globally are increasing spends on digital platforms – where advertising is more personal, campaign course correction is practical and results more measurable. Surely, the rapid growth of digital advertising leaves a key question unanswered: How to accurately attribute advertising and marketing spend?
It is clear that campaigns on digital platforms have a major advantage over their traditional counterparts with regards to measuring audience engagement. Many CPG companies are recognizing that digital marketing requires a new approach to marketing measurement and are adopting multi-touch attribution. This approach lets marketers take advantage of the unique set of data produced by digital channels to understand effectiveness at granular levels, by audience, and at a much faster cadence. According to a 2020 survey of US marketers and agencies, the following types of Ad measurement will become more important in a cookie less world:
Sales-lift research
Ad Effectiveness research
Media Mix Modeling
Cross-platform marketing attribution
All the above types of measurement heavily rely on the use of data. Data at an individual ad impression level can now be fed into Machine Learning attribution models to obtain insights about campaign performance and further decision making that would otherwise be largely intuition driven.
Understanding marketing attribution
Marketing attribution is a means to understand the impact that marketing initiatives make on a purchase, sale or various other KPIs like driving footfall, increasing brand lift and so on. A creatively well planned digital advertising campaign combined with a comprehensive attribution model allows marketers to get a firm handle on marketing analytics that reduce wasted ad impressions. This makes way for sharper, more accurate and pragmatic marketing.
As we explore the value of MTA in the CPG world, it's helpful to gain a deeper understanding of the most commonly used attribution models by marketing researchers.
Marketing Mix Modeling (MMM)—Primarily Offline


The MMM is a top-down attribution model that analyzes aggregated historical data, most typically from offline media sources like TV, radio and print. Organizational-level metrics that are used for strategic planning, spending budgets and analyzing performance are usually delivered with a marketing mix model.

Multi-Touch Attribution (MTA)—Primarily Online


The MTA model takes a bottom-up, granular approach requiring user-level data. The focus is on the consumer's digital journey, looking at the path to conversion across multiple touchpoints and over a time period. MTA measures household-level or individual lift of marketing levers or a combination. It helps marketers evaluate how much credit to assign to each element of a multichannel marketing campaign or each touchpoint. MTA allows measurement of digital touchpoints beyond aggregate channel metrics, such as ad copy or keyword level.

Unified Measurement Approaches (UMA) – Offline and Online


UMA answers questions that span both the tactical and strategic impacts of marketing. These approaches attempt to resolve the challenges of disparate, unlinked methodologies and insights. It can look not only at the digital touchpoints but also at exposure from owned media programs (CRM) as well as in-store and TV. It can identify and parse out both offline and online efforts.
Data and analytics in marketing attribution
We are looking at several millions of analyzable impressions per ad campaign depending on the type of product being advertised and targeting parameters. Each impression can be also associated with information about the action taken by a user all the way till the purchase of the advertised product, or where she dropped off in the path to purchase. All this translates to large volumes of data that can turn into valuable insights for the marketer. However, on many occasions, the data trail left behind by the customers is left untouched. A report states that upto 73% of all data retained by an organization is unused for analytics. This just goes on to show how crucial it is for brands and ad platforms to realize and leverage the immense potential of data analytics for accurately understanding the performance of marketing campaigns.
Challenges in building marketing measurement models for CPG businesses
CPG companies have the least amount of CRM data as compared to Retail, BFSI, Telco and Travel verticals. In addition to this, a research by CGT reveals that 80% retailers don't share online customer behaviour data, which is vital for CPG brands to create better marketing campaigns.
Watch Rineet Ratnakar – CIO – Hygiene and Home, North America, Reckitt Benckiser describe some of the challenges they face in attributing the outcomes of marketing spends
Here are some key concerns that a competent Multi Touch Attribution model needs to address to help in improving marketing effectiveness:

Missing or lack of access to all the relevant data sets that affect a campaign including POS data, and campaign metrics such as impressions, clicks, creative, site, audience level data
Varying levels of coverage of different data sets. E.g POS at store level, FB at DMA, TV at National level.
Failure of conventional models in effective attribution

Top down approaches (regression, clustering) aren't useful as there are, many causes for variability, delays in gathering sufficient data, absence of time to design and run large experiments and so on.
Bottom up approaches like (First touch, Last touch and Linear models) need data at lowest granular levels and consumer data – which is only sparingly available to CPG brands
Apart from these, the model also accounts for various other factors influencing Incremental Sales such as seasonality and weather to reduce attribution errors, the impact of multiple Campaigns running at the same time with same audiences, halo and synergy effects.
Scalability: An effective model is also built to process historical data every time the pipeline runs. The model accounts for different types of datasets that would be needed for different types of sales and campaign strategies.
Visual Dashboards
A powerful MTA model falls short in its ability to solve the marketer's attribution challenges in the absence of intuitive dashboards. Dashboards complete the model's ability to guide the marketer in the direction where the marketing dollar is performing at its best. A good dashboard helps the marketer with:
Faster and timely decision making
Better understanding of marketing tactics & campaign performance
In depth analysis – slice and dice
Improved tracking across KPIs
Find out how Sigmoid's MTA accelerator helps marketers obtain real time analytics for timely decision making.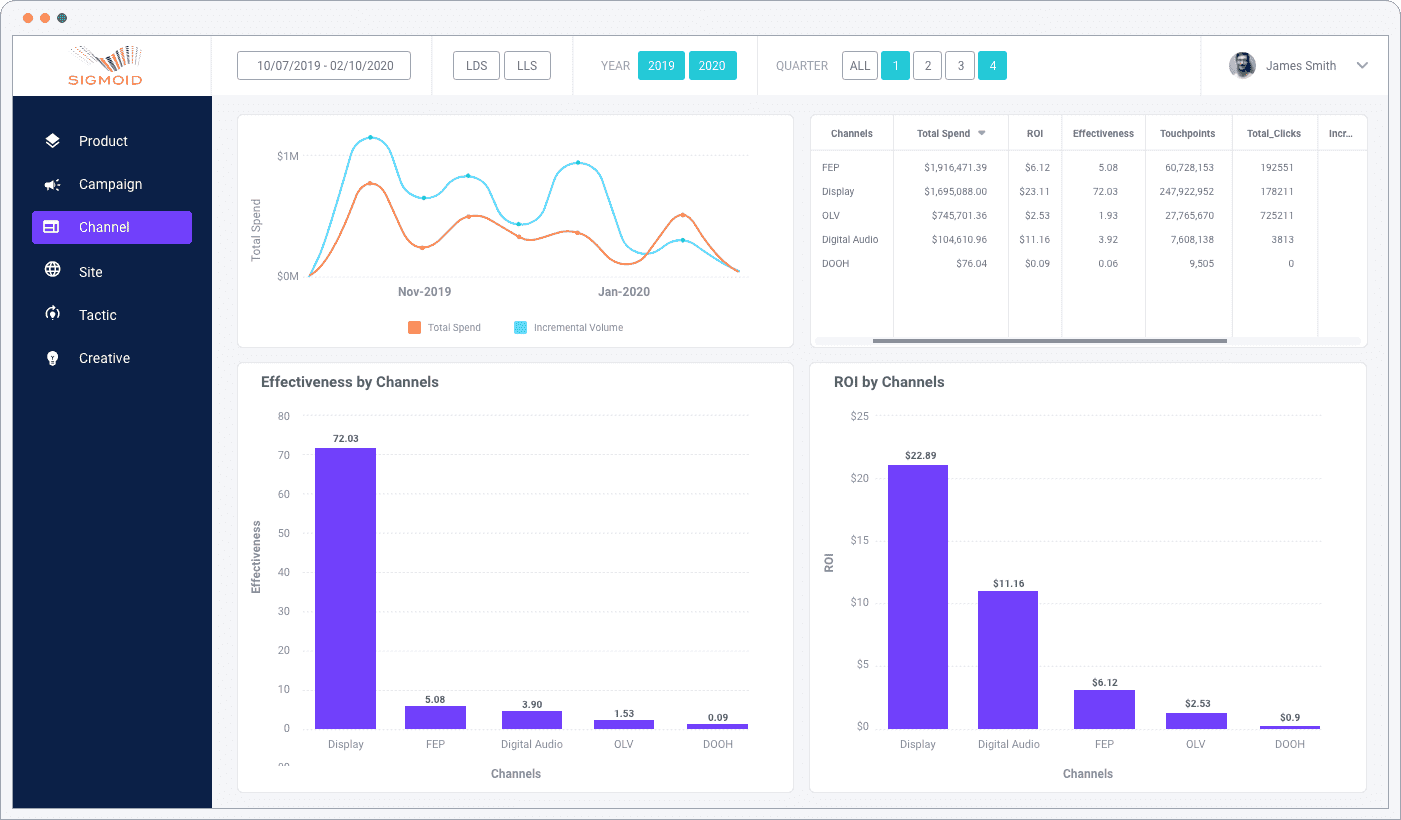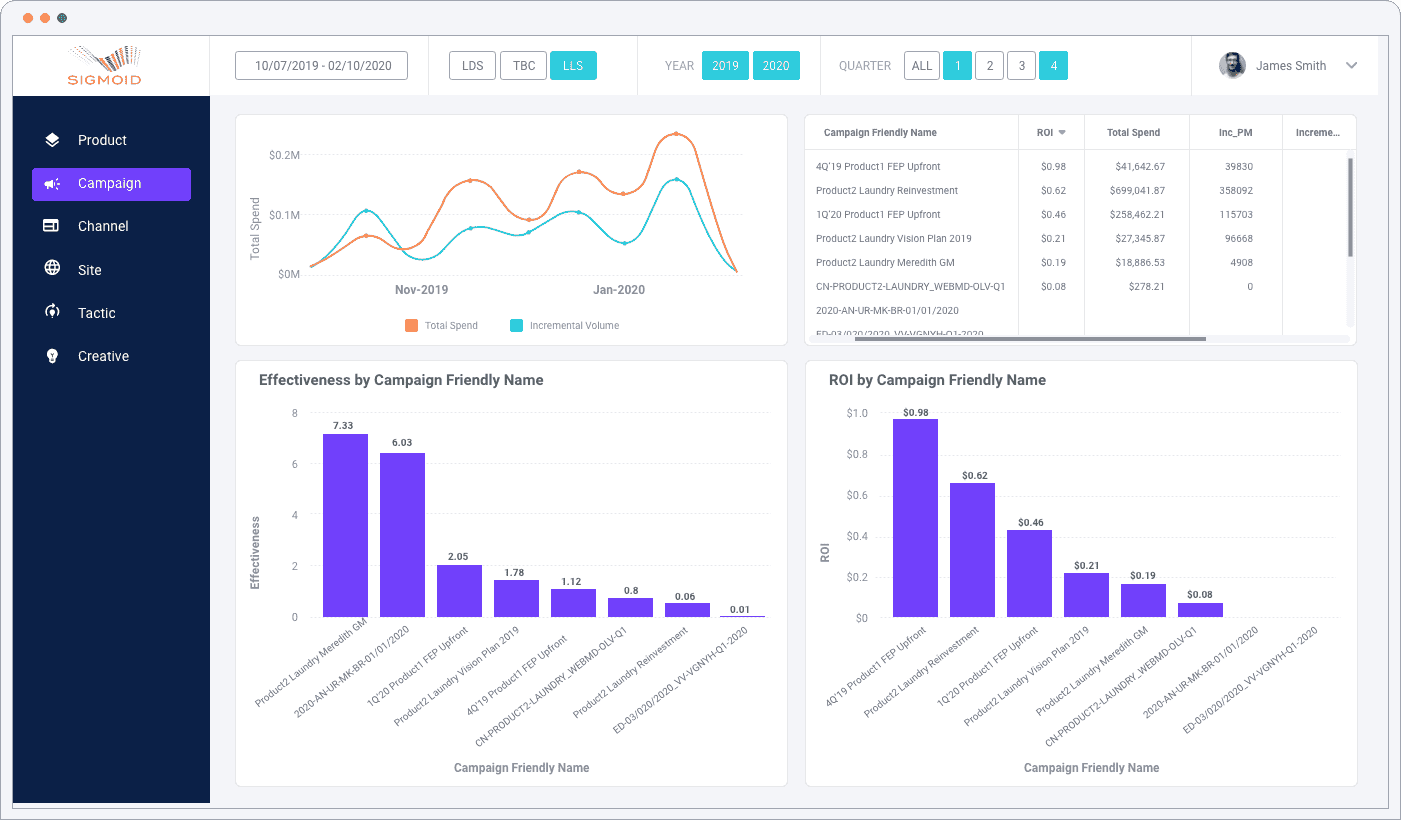 In conclusion
Measuring across touchpoints is a foundational need in data-driven marketing, and no marketing analytics team can get far without it. MTA solutions with real-time dashboards catering to specific marketing needs of your CPG businesses can take intuition and guesswork out of the decision making process, and enable marketers to be more data-driven. The result then, is more accurate decisions when it matters the most, including greater possibilities for in-flight campaign optimization.
Customized solutions are also flexible and cost effective compared to popular 3rd party MTA reports in the market and also stand the test of time as they are built to scale as your brands reach new heights!
About the Author
Sudeep is a Senior Pre-Sales Manager at Sigmoid. He has a decade of experience in providing Data driven solutions for companies across AdTech, Retail & CPG in their digital transformation journey.