Data analytics for CPG in the COVID era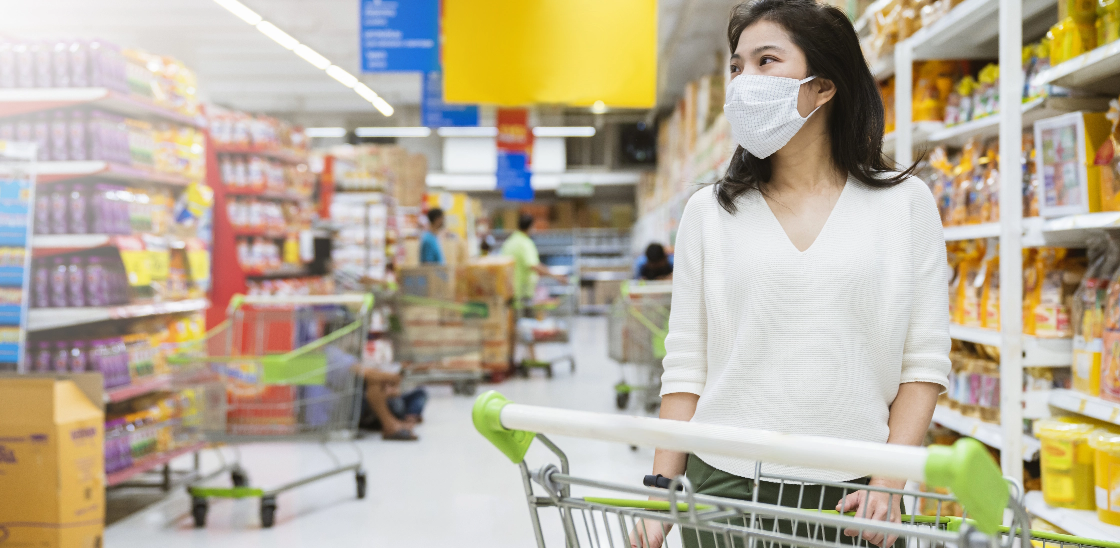 As of June 23, 2020, there are 9.2 million confirmed cases of COVID-19 worldwide and about 474,998 fatalities. When the virus started spreading beyond China and Singapore in March, governments shut down borders, offices and businesses closed, and people stopped going out of homes— the world came to a screeching halt.
Even though restrictions are being slackened now as economies need to restore to a new regular, we are as far from normal as we could be. Surrounded by health and financial predicaments, markets and human sentiments are fluctuating like never before.
Consumer Packaged Goods (CPG) industry has been struggling to meet the sinuous demand under the required safety measures while battling unforeseen supply disruptions throughout the pandemic.
People are stockpiling essential products and comfort items, shopping online vigorously, spending more on health and safety products, and are more price-conscious. For instance, in the US half of the shoppers made an additional stock-up grocery trip in the end of March (Source: MyTotalRetail, a news website for retailers).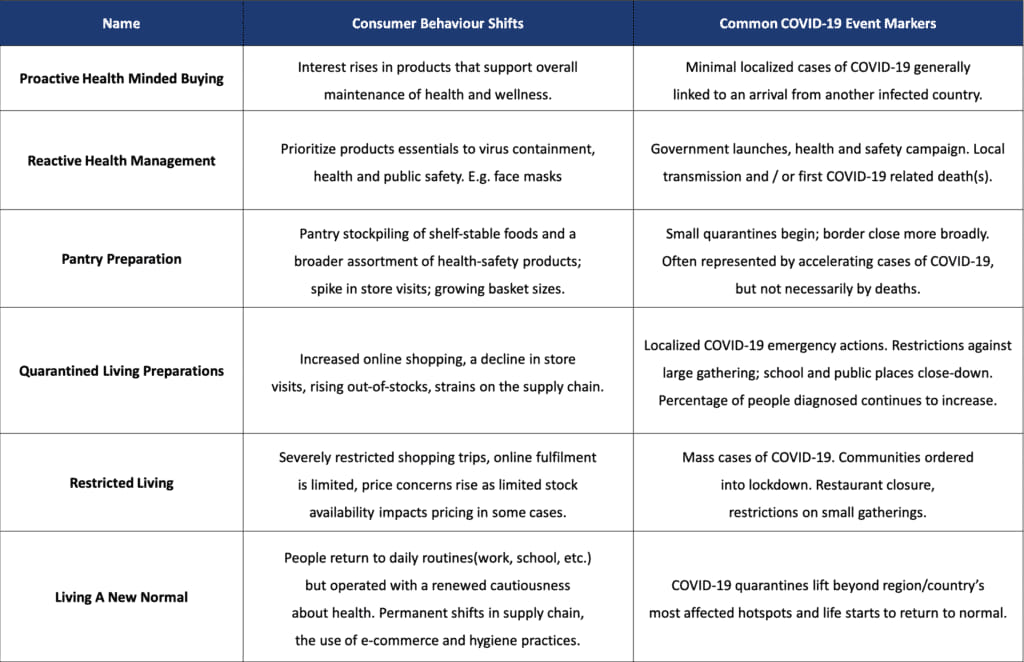 The Six Stages Of Consumer Behavior
Source: Nielsen.
While the governments and industries are finding ways to reinstate regular operations, the future of CPG would be determined by implementing CPG analytics that takes into account consumer sentiment, evolving regulatory restrictions and safety precautions, economic recovery, and employment rates. Price sensitivity, rise in attention to wellness and hygiene, and nesting at home are likely to become the new normal.
Importance of CPG Analytics
Along with the plethora of existing factors (marketing, inventory, seasonal changes, returns, out of stock, raw material availability, localized pricing, and so on) that drive the CPG industry, new uncertainties have joined the mix. Undulating consumption trends, restrained supply chains, and extreme localization pose only some of the challenges.
In these unstable times, the CPG industry can only depend on data analytics to identify trends, gaps, and opportunities in customer behavior and supply chains.
CPG's imperative dependency on big data is not new.
A survey showed that the businesses who studied data from retailers, analyzed customer demographics, and used data analytics for pricing were more likely to outperform their average competitors. Another study suggests that CPG analytics can generate more than 10% revenue growth.
Data analytics helps the CPG build its operating model around the customer —letting the system take care of all permanent and volatile predictors that cannot be understood manually.
Though data science seems to be the most promising hand-holder of the CPG industry — even more now than ever — old prediction models would hardly aid in the current scenario.
Need for new models to navigate the pandemic and post-pandemic era
The current situation is anything but congruent with a regular week, a holiday weekend, or any post-adversity chaos. None of the existing data models will work now because the pandemic overthrew all the previous assumptions and behaviors.
On top of unexpected developments, consumer behavior, spending intent, and the future outlook are constantly evolving.
In the US, the 2nd and 3rd week of March witnessed 15 times ($8.5 billion more) CPG sales than the previous two weeks
Source: Nielsen
Still, a McKinsey consumer sentiment survey conducted in May states that the overall spending intent of people is down across two-thirds of the 42 countries surveyed.
In the present volatile situation, the old prediction models would not only fail to assess the new demand and supply trends, but they can also cause damage.
CPG industries need to develop new data-driven, resilient prediction and decision tools that foresee the demand and help prepare robust but dynamic supply chains.
How can the CPG industry achieve the mammoth task of developing sophisticated and agile data analysis tools?
Rather than doing it all from scratch, CPG companies need data science experts who can create data-analytic models and provide avant-garde analytical tools to implement CPG analytics.
Luckily for CPG, visionary world data experts are providing feedback-based, adaptive environments wherein customized data engineering and data science solutions promise growth even in the most unforeseen situations. Sigmoid's data scientists are also doing exactly as stated.

War Room – Sigmoid's feedback based Data Analytics Tool
Big data is the best bet of the CPG industry — before, now, and going forward. Invest in data analytics today to navigate these hard times and be ready for a resilient solution for tomorrow.
Check out our COVID-19 resource page to see the data science solutions Sigmoid has to offer.