A guide to effective marketing analytics
Over the past few years, marketing analytics has evolved as an integral part of enterprise marketing efforts. Companies have been using it to drive value across their marketing initiatives — from optimizing email marketing campaigns to mapping customer journeys across digital touchpoints. However, a Gartner survey revealed that only 54% of marketing decisions were based on marketing analytics. Poor quality data, unclear recommendations, and lack of actionable results are some of the challenges cited by the marketing leaders. This whitepaper covers how CMOs can design an effective marketing analytics strategy to maximize ROMI.
2. Is your marketing strategy driven by insights?
The world of marketing has drastically changed over the last few years. It has evolved from being an art of promoting and selling a product or service to science with data at the core of decision making. Today with a wealth of data and analytics at their fingertips, businesses are expected to create marketing strategies that not only attract and retain customers but also increase the return on marketing spend.
What is marketing analytics?
An umbrella term representing a market that encompasses analytics features within end-to-end marketing platforms and specialized tools. These platforms and tools allow marketers to collect, analyze, model, and visualize data to optimize marketing and advertising campaigns by better understanding prospects and customers and their behaviors across channels.
Source: Gartner
Marketing analytics can play a critical role in helping companies chart out data-driven marketing strategies that drive business growth and success. By leveraging correct data points and appropriate analytics tools, marketing teams can improve the effectiveness of their campaigns. With granular data on customer's buying journey monitor campaign performance and eliminate guesswork marketing teams can create a more personalized customer experience. Such data-driven efforts lead to the maximization of ROMI.
Over the past few years, marketing analytics has evolved as an integral part of enterprise marketing efforts. Companies have been using it across all marketing channels to drive value. For instance, while some have resorted to sentiment analytics and text analytics to analyze social media engagement patterns, others are harnessing predictive analytics-driven scoring techniques for targeted decision-making. Although CMOs understand the importance of investing in marketing analytics, many struggle to demystify marketing performance data, leading indicator metrics, and diagnostic metrics to show its value proposition. In fact, Gartner's Marketing Data and Analytics Survey 2020 revealed that more than 50% of surveyed senior marketing leaders are not satisfied by the results achieved through their data investments. Therefore, only 54% of marketing decisions were based on marketing analytics. They cited poor quality data, unclear recommendations, and lack of actionable results as the main reasons for not depending on analytics to make decisions.
So, how can CMOs improve the effectiveness of their marketing analytics? This whitepaper highlights different ways to get more value from marketing analytics and achieve better business results.
3. How marketing analytics empowers marketers
Marketing used to be a field of creative intuition and sound decision-making. Today, more companies are depending on marketing analytics to drive their decision. For instance,
"85% of respondents in the Gartner Marketing Data and Analytics Survey believe that 'significantly more' of their marketing decisions will depend on marketing analytics by 2022."
Here are some of the ways through which marketing analytics are empowering marketers today:

1. Optimizing email marketing campaigns
Marketing analytics helps marketers closely track and monitor key email marketing metrics and KPIs such as Email sharing and forwarding rate, click through rate, open rate, unsubscribe rate, bounce rate and conversion rate. By analyzing these metrics, companies can tweak their email marketing strategies to drive maximum engagement for multiple audience groups.
2. A/B testing
A/B testing, also widely referred to as split testing, is often leveraged by marketers primarily across sectors like CPG and BFSI to determine how much impact one or more versions of a variable such as a website or landing page has on the audience. Unlike traditional methods, marketing analytics-driven A/B testing tools can help marketers drive better ROI from the existing traffic, initiate low-risk UI/UX modifications to an engagement platform or messaging, lower bounce rate, optimize keywords for better traction and so on.
3. Hyper personalization
Today marketing analytics is empowering marketers to engage with customers beyond the four walls of the shop floor. Marketing analytics is providing companies with the option to track customer behaviors, preferences and engagement patterns across the purchasing journey and create personalized user personas. These user personas are being leveraged to deliver personalized messages, personalized product choices, POS discounts on products and so on. Personalization driven through marketing analytics is fast gaining traction across sectors like e-commerce in CPG.
4. Map customer journeys across digital touch points
Customer journey analytics is allowing marketers to closely analyze individual customer behavior across multiple engagement touchpoints in the entire purchasing journey. Mapping customer journeys, understanding their preferences and catering to their engagement needs can be a great way to drive customer-oriented business outcomes and customer experience across channels.
5. Optimizing SEO campaigns
Marketing analytics can also help companies track and optimize SEO campaigns. With customer engagement data at their fingertips, companies can drive tangible results from their SEO initiatives by identifying top performing content, top engagement rate, competitor benchmarking, optimizing top performing landing pages, comparing organic with non-organic visitors and so on.
6. Social listening using NLP
Advanced social-listening tools embedded with AI technologies like Natural Language Processing (NLP) can help marketers evaluate customer sentiment by tracking brand mentions across social channels and optimizing campaigns accordingly. With social listening, CPG brands get a sharper understanding of real-time audience perception towards new brand/product launches.
4. How marketing analytics helps marketers move up the measurement/attribution value chain

1. Analyze marketing efforts with optimized marketing campaigns
One of the most significant benefits of marketing analytics is its ability to help marketers evaluate and analyze the effectiveness of their campaigns. This enables them to make changes or adjustments in their marketing plans to avoid mistakes or optimize them. For example, marketing analytics can help determine which channels have the highest or lowest customer acquisition costs and which campaigns are worth expanding or scrapping. With this, marketing teams can have a clear picture of their marketing efforts.
2. Determine the optimal mix of channels
The number of channels leveraged by a marketer to reach the target audience will only amplify with time. Given this, it is extremely critical for marketers to determine an optimum mix of channels that can deliver the best engagement results. Marketing analytics can allow companies to pick the right channels to invest in that promise maximum engagement. By leveraging analytics, marketers can evaluate channel response on the basis of some set parameters such as follower status, comments, likes and even impact on sales.
3. Facilitate immediate action with actionable insights
The strongest marketing leaders are the ones who have actionable insights. Marketing analytics helps to turn available data into valuable and actionable insights. With this, marketing teams can better understand their target audience, identify trends, and avoid making the same mistakes as in the past. They can collate such data and create marketing dashboards to quickly and deeply delve into insights, which can help them execute specific techniques to optimize campaigns.
4. Understand the business impact of marketing budgets
Marketing analytics programs can boost customer acquisition efforts in several ways. It can help marketers gather information about consumers clicking on ads or engaging with a brand through social channels. This data can provide more actionable intelligence about customers' purchasing behaviors, preferences and needs, and help companies understand the real impact that their marketing budgets are having.
5. Forecast results of alternative marketing plans for planning & activation
Marketing analytics provides the opportunity for marketers to anticipate the results of alternative marketing plans. By logging historical data in an AI engine, marketers can predict market trends and identify new content consumption demands. There are several instances when factors like seasonality can impact the effectiveness of a particular marketing campaign's effectiveness. It is here where analytics can help marketers shed light on such variables.
Empower marketing teams with high-quality insights.
5. Challenges that impede marketing analytics initiatives
There is a perception that not all businesses can use marketing analytics to make the right decisions at the right time and achieve significant gains. For instance, some CMOs believe marketing analytics processes are very complicated, while some assume a business of their size cannot benefit from implementing metrics. But neither of these assumptions are true. As long as data is carefully curated and marketing analytics is properly implemented, companies of any size can grow and prosper.
However, some marketing analytics challenges/obstacles need to be addressed to derive actionable insights.

1. Lack of proper data engineering services
The majority of failed analytics projects across sectors can be attributed to lack of data modernization and absence of thorough data governance. A long-term marketing analytics roadmap cannot reap tangible results until companies come up with a sound data engineering strategy that involves systematically migrating marketing analytics workloads to the cloud, creating robust and resilient data pipelines with readily available clean data and facilitating data availability for all end-users operating in silos.
2. Difficulty in accessing large datasets
Marketing teams have terabytes of data about everything from customer behavior and buying patterns to demographic consumer shifts and emerging market trends. However, this quantity of data becomes useless if it cannot be structured and analyzed to substantially impact ongoing and future marketing efforts.
A recent Survey reveals that data scientists spend an average of 45% of their time on data wrangling and formatting. This means that data scientists and marketers struggle to organize the huge chunks of available data to evaluate and analyze it.
3. Unreliable and poor data quality management
Besides having to sift through vast amounts of data, companies are also suffering from poor quality data that directly impact on operational efficiency, customer satisfaction, and marketing budgets. A study conducted by Forrester found that 26% of marketing campaigns were affected by substandard data. The study also revealed that 21% of surveyed company's media budgets were wasted due to inaccurate and unreliable data. These figures are surprising as 82% of respondents said that they prioritize the quality of data collected and analyzed. Without maintaining data quality, marketing teams cannot reap the benefits of marketing analytics.
4. Lack of sufficient data analytics strategy and skills
Even if companies have access to quality data, they might not have access to skilled analytics personnel. Data newbies usually have a limited data skillset. Beyond entry-level data skills such as basic reporting, they might not have the ability to analyze or see underlying drivers and challenges. This ultimately inhibits marketing analytics' effectiveness. A CMO Survey indicates that about half of the respondents lack skilled statisticians and sophisticated processes/tools to inform better decisions through marketing analytics. CMOs need to prioritize investments in hiring skilled professionals with experience in solving complex marketing analytics use cases to address these challenges.
5. Disparity between model capabilities and company's goals
Without comprehensively evaluating the value of different consumer touchpoints, companies cannot accurately measure the effectiveness of their marketing efforts. But selecting an attribution model that provides the much-needed insights can be a daunting task. Different attribution models offer different insights. For instance, among the several attribution models, Multi-Touch Attribution and Marketing Mix Modeling can indicate the value of media campaigns by correlating advertising efforts and actual sales. Marketers need to understand each attribution model's abilities and select the one that offers the insights they need. Unfortunately, sources indicate that only 22% of marketers believe they are using the right attribution model.
6. Best practices to enhance marketing analytics
It's not a simple task to track marketing analytics. Companies need to have a strategy/roadmap to boost their marketing effectiveness. With the right marketing analytics plan, they can see which programs are successful and make future efforts more impactful.
Here are some best practices to improve the effectiveness of marketing analytics: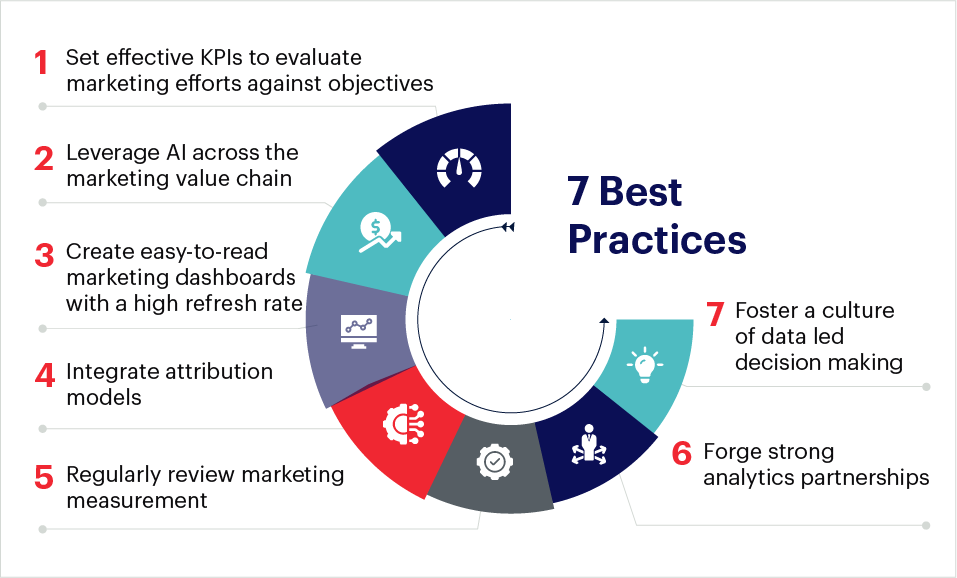 1. Set effective KPIs to evaluate marketing efforts against objectives
Companies should set Key Performance Indicators that can help them understand whether their marketing campaign collaterals impact the target audience and contribute to ROMI. Before diving into marketing analytics, it is important to define specific marketing objectives and goals. Some of the most common KPIs include cost per lead acquisitions, sales revenue, customer lifetime value, traffic-to-lead ratio, and organic searches. Once KPIs are determined, marketing teams can ensure correct tools are implemented to collect and analyze data to facilitate actionable marketing decisions.
2. Leverage AI across the marketing value chain
AI enables marketers to discover insights and make informed marketing decisions to achieve brand objectives effectively. By integrating data from ERP systems, CRM, Retailer data, Google Analytics, Social Media and 3rd party data providers, AI enables businesses to develop targeted, data-driven marketing strategies to boost their ROMI. Throughout the purchase journey AI can improve the way brands attract, engage and convert prospects by delivering across use cases such as Media buying, Ad Optimization, Lead evaluation, Personalized recommendations, Marketing automation, CLTV improvement.
3. Create easy-to-read marketing dashboards with a high refresh rate
A complicated marketing dashboard can hamper the way companies track their marketing KPIs. That's why user-friendly dashboards are essential to the success of every marketing team. Such dashboards help the team to review market trends and derive insights from their campaigns easily. An ideal marketing dashboard should have a near-real-time view of all marketing activities, including KPI tracking, showcase all the relevant analytics from data sources, and be customizable in real-time.
4. Integrate attribution models
Several attribution models have been introduced over the recent years, enabling marketers to try different models and find the one that is perfect for them. However, it should be noted that no single attribution model can provide a holistic view of today's omnichannel marketing landscape. Therefore marketers should experiment with different attribution models and combine them as part of an omnichannel attribution strategy to understand the touchpoints that drive ROMI. With this, marketers will have insights from each attribution model allowing them to select the most constructive ones toward achieving the company's objectives.
5. Regularly review marketing measurement
Instead of reviewing marketing analytics efforts at the end of a month or end of the campaign, CMOs should make reviewing analytics an integral component of their daily objectives. It will allow them to change or adjust their active campaigns in real-time. By regularly monitoring metrics and evaluating trending data, marketing teams can make real-time changes to their campaigns and make them more effective.
6. Forge strong analytics partnerships
It is imperative for marketing analytics teams to conduct quality analyses that result in more engaging, profitable campaigns. Therefore, they either need to be trained or engage with data experts to evaluate huge datasets in order to derive insights, understand consumer and MarTech trends, and leverage various data automation and analytics tools. Companies should also consider adding more analytical power to their teams.
7. Foster a culture of data led decision making
It is imperative for marketing analytics teams to conduct quality analyses that result in more engaging, profitable campaigns. Therefore, they need to be trained to evaluate huge datasets to derive insights, understand consumer and MarTech trends, and work on various data automation and analytics tools. Companies should also consider adding more analytical power to their teams.
Sigmoid Created an automated solution to suggest recommendations and campaign strategy changes for various online platforms such as Amazon and in the long run, improve organic sales. Leveraged machine learning to implement campaign budget realignment and bid price optimization strategies which ensured appropriate allocation of budget from low-performance campaigns to high-performing campaigns and yield better placement of sponsored ads. The entire process was automated require no manual intervention by campaign managers.
Using marketing analytics to drive growth
Businesses can develop new marketing strategies to attract customers and meet their expectations with the plethora of available data. However, the key to successful marketing lies in how accurately data is collected, analyzed, and leveraged to make informed decisions. This is where marketing analytics can help CMOs to achieve desired outcomes. Pivoting to an analytics-centric approach might take time, but the benefits of doing so can be substantial.